Lil Reds (3-4)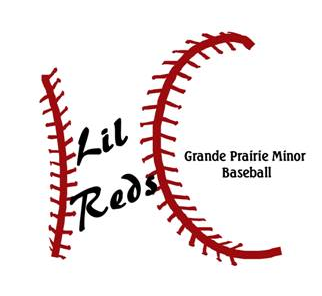 Welcome to Lil Reds, this is a 8 week program offered by Grande Prairie Minor Baseball Association for children aged 3-4 years old. Children MUST be 3 by May 1st and can not turn 5 within the playing season ABSOLUTLY NO 2 or 5 year olds will be allowed to play in Lil Reds under any circumstance, GPMBA reserves the right to ask for proof of age.
The Lil Reds program relies solely on parents to fill all volunteer coaching position (GPMBA does not supply coaching for this program). Parent participation on the field is also required to help ensure that all little ones are learning the basics of baseball.
Skills that will we cover are: Right or Left handed, how to hold a bat, base names and location, hitting off a tee, throwing a ball and overcoming fears that are associated with baseball.
Our number 1 goal is to have fun while building these skills.
Registration Information
PLEASE READ THE FOLLOWING INSTRUCTIONS FOR REGISTERING IN THE LIL REDS PROGRAM
Step one
Go to www.gpmba.ca to register
If first time registering you must create an account
Select 2019 season-continue
Read all documents and continue
***Under Divisions select Rally Cap
Under Packages select Lil Reds Baseball
In question section select which days of play you would like.

Ages: 3-4 (Your child must turn 3 prior to May 1, 2019, and cannot turn 5 before June 30, 2019. Under no circumstance can we have any children 2 or 5 in the Lil Reds Program.

Days: You can choose from 2 days per week (Monday/Wednesday) or the 1 day a week (Saturdays only)

Price: The Monday/Wednesday group is $120.00/season
The Saturday only is $60.00/season

Season Start Date: May 1st (Weather Permitting)

Season End Date: TBA (June 30th weather permitting)

Times: 1:00pm to 2:00pm at Evergreen Park Diamonds A,B,C,D,E
Please contact Cailyn for any questions you might have regarding the Lil Reds program.
Cailyn - Lil Reds Director
lilreds@gpmba.ca